Bridal Shower Invitations
Choose from out extensive selection of wedding shower invitations and cards. We carry many fun and colorful designs, plus some very appropriate shapes like purses, cakes, dresses, etc.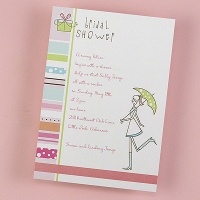 Gift and Stripes
Have some bridal shower fun with this colorful, bright white invitation.
$106.00 per 100
Social Events
Bridal shower invitations have never been this fun! This one is loaded with intriguing elements for sure.
$136.90 per 100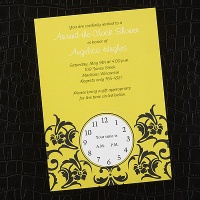 Around the Clock
Honor the bride to be with an around the clock shower on this bright white invitation.
$106.00 per 100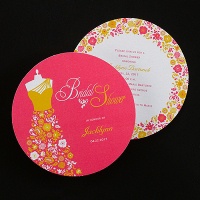 Dressy Florals
A dressy floral design captures the essence of this pretty, two-sided invitation card.
$186.90 per 100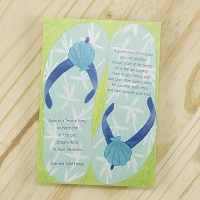 Shoes for the Sun
If you're going somewhere out in the sun make sure to choose this fun flip-flop bright white party invitation. Whether you're planning a wedding, couple shower or a backyard bash this invite will create a sun-filled good time. First 4 lines of verse will be printed on right flip-flop.
$106.00 per 100
Home
Copyright © 2016 Bridalshowerinvitations.bz - All Rights Reserved - Date: 12/2/2016